About The Australian Plaiters & Whipmakers Association
Origins
Our association has its origins in a small newsletter sent out by Ron Edwards in 1985.
Ron was a talented artist, illustrator and an avid collector of all things to do with traditional bush crafts and he published a number of very successful books on the subject. Of the many crafts that he recorded for posterity the one that piqued his curiousity the most was that of the bush plaiter who made all manner of useful and decorative items from plaited greenhide and kangaroo leather using just a piece of leather and a knife.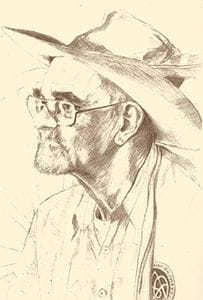 Aware that the numbers of these old-time plaiters was dwindling Ron decided to find out more about the subject and did so by sending out a newsletter to a few of the people he knew who were making whips professionally or were hobbyists engaged in the craft.These people spread the word and in a short time the Plaiters And Whipmakers Journal had a large following.
At this stage the members were just a widely scattered group of people, mostly working in isolation and connected only through Ron's Journal. So at the urging of a number of people, the first gathering of plaiters and whipmakers was held in January 1993 in the rural setting of the Jondaryan Woolshed historical site on the Darling Downs west of Brisbane, with a roll up of 43 enthusiasts. The weekend was such a success it was resolved to form an association and continue the meetings.
Today
From these small beginnings the Association has grown to include an Australia-wide and international membership of dedicated leather plaiters interested in all aspects of the craft.
Our quarterly magazine the Australian Plaiters And Whipmakers Journal is now a full colour, glossy publication comprised of a mixture of news and "how to" articles, all contributed by the members.
Nationally, we have members in every state of Australia and a significant number of international members.
These days we meet every two years at Easter time at Stanthorpe in southern Queensland's Granite Belt. Members and visitors enjoy a weekend watching or participating in demonstrations, exchanging ideas, and socialising around the campfire at night. Smaller annual gatherings take place at the historic Jondaryan Woolshed on Queensland's Darling Downs.
A nucleus of enthusiastic plaiters has grown up in Queensland centred on Toowoomba where they have formed a separately incorporated group that have their own management committee, reporting and financial structure and charge their own membership fees.They meet regularly for workshops and demonstrations (details elsewhere on this website).
In the time the Association has been in existence we have seen the interest and practice of the Australian style of leather plaiting change from what was widely thought to be a dying art into one that is now widespread and practised to a high standard by many skilled people, due in large part to Ron's passion and efforts.
Ron sadly died in 2008 but is remembered by all who knew him.
---
Office Bearers:
President: Bill Morris, Secretary / Treasurer Phillip Holding, Editor: Phillip Holding
Committee: Peter Johnston