The Australian Plaiters and Whipmakers Association
A Short History by Ron Edwards
"The most important influence in keeping the traditional arts of fine whip making and belt plaiting has been the Australian Plaiters and Whipmakers Association. In the two thousand pages of its journal The Australian Whipmaker "trade secrets" have been passed on and preserved for future generations, and through the annual meetings of the association master plaiters have been able to teach a whole new generation of learners, as well as exchange ideas with their own peers.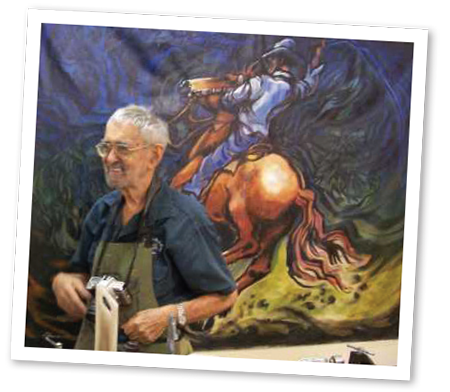 In the early 1970s, I had been collecting material on bush crafts which ultimately found their way into my book Australian Traditional Bush Crafts, which later became called Bushcraft 1 as the series expanded into ten volumes over a thirty year period.
In the course of travelling around the bush collecting material for this book I discovered that a lot of old craftsmen were very jealous of their "trade secrets" and would not pass them on to anyone. Then, when they were very old and could see the end coming I found that they were very happy, indeed anxious, to pass on their secrets, but by then it was often too late as they no longer had the material with which to demonstrate, and in some cases were beginning to forget.
I had been doing most of my research in Queensland, but reasoned that the same thing was happening all over the country, and if nothing was done about it then this whole generation of old craftsmen would pass on and their methods would be lost.
I thought that if we could start some sort of a club devoted to the arts of whip making and plaiting then these old-timers could be given the degree of respect and recognition that was due to them, and in return they could have the chance of passing their skills onto a new generation.
Most clubs and associations are formed from an existing body of people in one area, but in this case the potential members were scattered across the country, and so there was no way that they could be conveniently brought together to discuss the idea. So I did the only thing that seemed possible, and set up the Australian Plaiters and Whipmakers Association without any members, and then I contacted all the crafts people that I knew and invited them to join.
With members so scattered it became obvious that all contact would have to be made in writing, and this was also the obvious way in which the various skills could be recorded.
The first edition of the APWA Journal came out in October 1985 and consisted of only one page, printed on both sides (this can still be obtained as all issues of the journal have been gathered together into bound volumes so that no information is lost). Members mentioned were George Stien of Atherton, Lindsay Whiteman of Townsville, Garry Glasby of Warwick, Harry Glanville and Allan Walker, both of Cairns, and myself. The association received no publicity but news of it seems to have quickly passed around by word of mouth and it was not long before we had inquiries about membership from all over Australia.
Among the earliest members were Maurice Doohan, Glen Denholm, Bruce Cull, Brian Mallyon, Rodney Botfield, Robert Blomfield, Eric Black, G. Kesper, Richard Malin, Michael Wilson, Tony Nugent, Walter Norton (USA), Dave Barrow (USA), Ron Mathews, Trevor Domjahn, Malcolm Burbury, Norman Van Den Brock, Michael Hutton, John Allan, Doug Kite, Shyla Pearce, Scott Stockslager, Peter Clarke, Helen Dovnik, Ossie Slama and Allan Pilkington.
These names were taken from the first dozen or so issues of the journal and represent our foundation members. I apologise if any members have been missed because their names were not in our early issues.
It seemed to me that the only way to preserve this fast vanishing information was to publish it and share the knowledge around. This idea was accepted with enthusiasm and members were soon contributing their knowledge, except for one founding member who had other ideas.He wrote and said that it had taken years for him to learn the trade of whip making, and his teachers had been people who kept their secrets to themselves and only passed it on to a favourite apprentice. He announced that he was going to keep his hard won knowledge to himself and anyone who passed on their secrets was a fool. But the other whip makers kept on contributing articles about how they did things, and what they said was so interesting that finally our hard case could not resist adding some of his knowledge, and soon he became one of our most prolific contributors, his knowledge helping a whole new generation of whip makers.
The result of his work, and that of other enthusiasts, has been a great growth of interest in the arts of plaiting and whipmaking and the skill shown by some of the modern whip makers is as great today as any of the past masters of the art.
As membership grew many of the members said that they would like to meet each other and so the idea grew of having a get together. The question then arose as to where, as members were scattered around the country, and Maurice Doohan suggested the Jondaryan Woolshed near Toowoomba, as they had the space and the camping facilities. The meeting was held January 25-27 1993 and was a great success. Further annual meetings were held at Jondaryan each August and at each meeting we would attract some new members. One unexpected result of this was that the membership became heavily centred around southern Queensland.
New members began to learn from the experts and exchange ideas and techniques and now, after twenty years, it seems that at least half of the best plaiters and whipmakers in the country will be found within a days drive of Toowoomba and Stanthorpe.
Stanthorpe, as an alternative site for meetings of the APWA came about by chance. One year the Jondaryan Woolshed hired a new manager who was a bit of a dill (and only lasted a few months). One of his ideas was to inform us that we should pay $2,000 for the privilege of holding our meetings there. This was out of the question and so we looked around for another site and the showgrounds at Stanthorpe were suggested. Members liked this set-up because there was plenty of room and no one at the gate taking money as they came and went.
With the sudden departure from Jondaryan of the money-hungry manager the association turned to the pattern of having annual meetings at Jondaryan and another big meeting every two years at Stanthorpe.
So many members were to be found in southern Queensland that in 2007 a sub-branch was formed in Toowoomba by Michael Craft so that more frequent gatherings could be had throughout the year.